Resolution to Microsoft – Blue Screen Error Fixing 
Recently, Microsoft's latest release for Windows 10 March 2021 Security Update has been found to cause some users to experience system crashes when attempting to print from their computer.
Brief Background:
For customers who are currently using Windows 10, when printing after applying the update program distributed by Microsoft on March 10, 2021, a blue screen error is displayed and a forced restart is required. Printing is ultimately not possible.
Resolution: 
1. Applicable update program: The phenomenon may occur in the environment where the following Windows update program is installed (Defect Patch -9 March release):
Windows 10 version 20H2 – KB5000802
Windows 10 version 2004 – KB5000802
Windows 10 version 1909, – KB5000808
2. Countermeasure Patch (16th March release):
Microsoft Installation Procedure:
Please consult your IT Manager / Administrator who should follow the below procedure to install the Microsoft patches.
For instructions on how to install Countermeasure Patch, please see the following Microsoft site:
https://support.microsoft.com/windows/update-windows-10-3c5ae7fc-9fb6-9af1-1984-b5e0412c556a
Check Point and Result: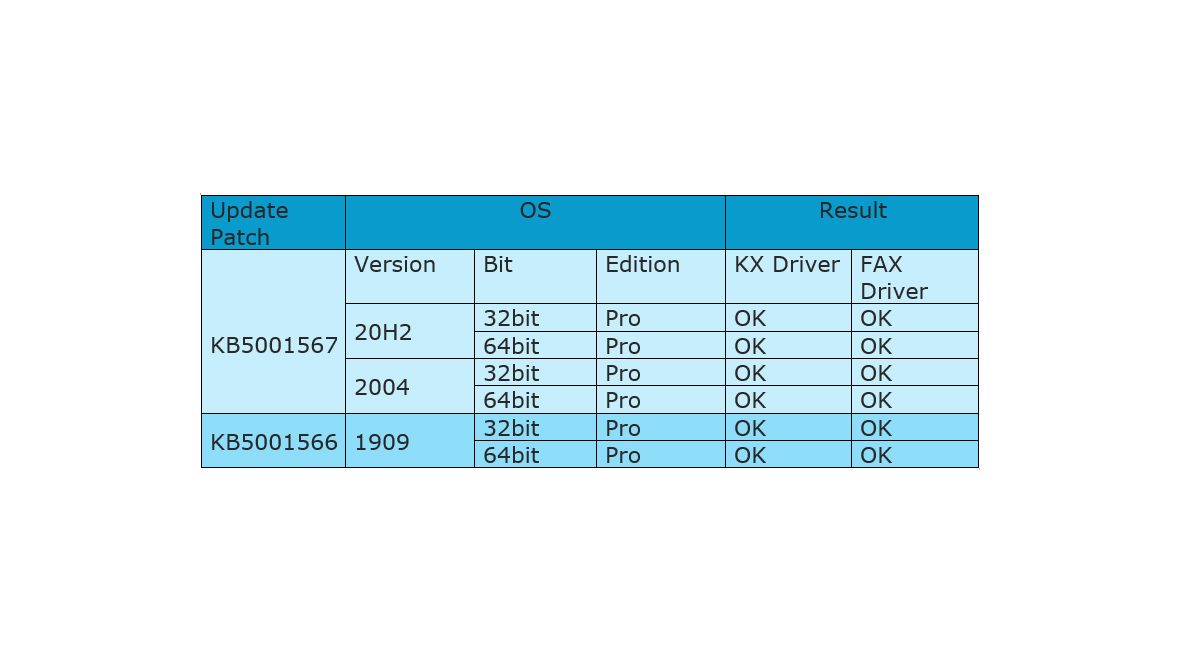 Thank you for your ongoing trust in Kyocera.
About KYOCERA Document Solutions Cape Town
Since 1992 KYOCERA Document Solutions Cape Town has helped small, medium and large businesses attain optimal document efficiencies with industry-leading service delivery. As a leading partner of KYOCERA Document Solutions South Africa, we have attained the highest standards of marketing, installation and support of its products and solutions.
About KYOCERA Document Solutions
Kyocera Document Solutions Inc. is a core company of Kyocera Corporation, a leading supplier of semiconductor packages, industrial and automotive components, electronic devices, solar power generating systems and mobile phones. During the year ended March 31, 2020, Kyocera Corporation's consolidated sales revenue totalled 1.6 trillion yen (approx. US$14.7 billion). Kyocera appears on the "Derwent Top 100 Global Innovators 2018-19" list by Clarivate Analytics and is ranked #549 on Forbes magazine's 2020 "Global 2000" list of the world's largest publicly traded companies.